Packaging Equipment Sales
Packaging Equipment Metal Detection
Packaging Equipment Metal Detection Systems for a wide variety of packaging and processing applications. These metal detectors are the most accurate and reliable metal detection packaging machines you can buy. This is cutting edge technology, high quality craftsmanship and industry leading reliability, all at very affordable price.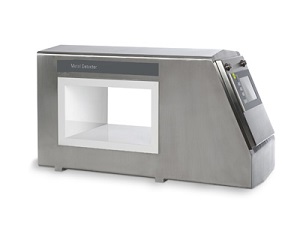 Packaging Equipment Metal Detection for Packaged and Bulk Foods- This metal detector is well suited for metal detection of bulk foods like Cheese, Butter, Frozen Meat Blocks, Processed Foods that weigh up to 130kg and bags weighing 50kg. The dual and four signal capabilities of this high quality metal detector, when used with the exclusive coil technology, provide highly accurate detection of all ferrous and non-ferrous metals. When packaging equipment metal detection is required for products which are conductive like potato products or cereal the packaging equipment metal detection systems can be specifically tuned to ignore false signals. By eliminating false rejects or missed contaminates this is the utmost protection against metal contamination in the final product.
Metal Detection for Packaged Meat, Fruits and Vegetables- When inspecting fruits and vegetables for metal contaminates it is important to distinguish between natural occurring product variation and potentially hard to detect metal objects including both ferrous and nonferrous particulates. With many HACCP (Hazard Analysis Critical Control Points) locations from production all the way through to the packaging equipment areas, meat packers, vegetable and fruit producers are well protected when using these systems. The Stainless Steel Metal Detection Inspection System is IP65 Wash-down Rated and the Heavy Duty Construction will lead to years of reliable and accurate metal detection service. With most fruit and vegetable producers the work is seasonal and employees need an easy to use HMI (Human Machine Interface), these systems provide multiple product metal detection setups and all the information is in an easy to understand format.