Packaging Equipment Sales
Inkjet Coders
Inkjet Coders for date code, lot numbers, bar codes, serial numbers and QR codes. We carry a large selection of Industrial Inkjet Coders including the following technologies, Continuous Inkjet Coders, Drop on Demand Inkjet Coders and Thermal Inkjet Coders for rigid and flexible packages.
If you need any type of inkjet coder, please contact us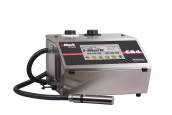 Continuous Inkjet Coders use a recirculation pump to keep a steady stream of charged ink drops available for producing a code. The ink is electronically diverted into the recirculation system until needed. When the Can, Bottle, Jar or Pouch is in front of the coding head, the previously electronically diverted ink is allowed to pass through the diverting area and create the code on the package. Because the inkjet coder is always primed and the diverting is electronically controlled the on/off inkjet coding process only takes a couple of milliseconds to perform. This is why Continuous Inkjet Coders are used in high speed applications like coding Cans, Bottles, Jars or Pouches.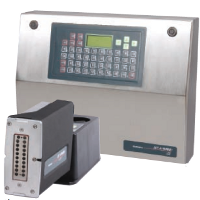 Drop on Demand Inkjet Coders only spray drops of ink when the code is required and the ink is not recirculating. The ink is forced out of a valve/nozzle when the digital signal is sent and while the coding speeds are not as fast as a continuous inkjet coder, Drop on Demand Inkjet Coders feature the low ink consumption and maintenance costs. These Inkjet Coders work especially well on wine cases, beer cases, beverage cases corrugated boxes, milk cartons, egg crates, plastic containers, any type of box, case or tray that does not exceed 780 ft/min packaging line speed. There are numerous print head selections available for these inkjet coders ranging from 7 to 32 valves and code heights of 1/4 inch to 5 inches. There are also several controllers available to meet your inkjet coding requirements. As with other inkjet coders sold by Packaging Equipment Sales, these Inkjet Coders provide excellent code clarity, high code contrast, feature heavy duty construction for maximum reliability.