Packaging Equipment Sales
Blower Air-Knife Drying System
Packaging Equipment Sales is your source for the best Centrifugal Blower and Air-Knife Drying Systems. If you need to dry Cans, Bottles and Jars, blow water off Fruit and Vegetables, Cheese, Packaged Meat, any type of package or parts then we can design a Blower and Air Delivery Device to meet your requirements.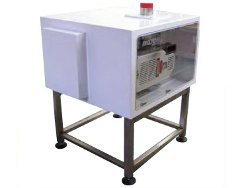 Why do you need a Centrifugal Blower for your packaging line?
A centrifugal blower produces filtered clean and dry air (regular compressed plant air contains water and oil that may become a source of contamination for food and beverage products).
By mounting the centrifugal blower close to the air-knife, the number of air connections are reduced and so is the potential for wasted air through leaking connectors or lines.
It is cheaper to produce compressed air for drying packages with a centrifugal blower and properly sized air-knife than to use regular compressed plant air.
Watch this video showing the Centrifugal Blower and Air-Knife Drying Systems.
The video shows a Blower and Air-Knife Drying System removing water from Packaged Cheese. Cans and Bottles. There is a segment which shows a Blower with a Cone Manifold Air Delivery Device drying vegetables after washing. You will see a Cap Drying System for PET and glass bottles that will remove water even under the edges of the cap or crown of the bottle. There is a Blower Air-Knife Drying System for drying cans and another designed for drying the entire bottle.
Packaging Equipment Sales will work with you to select the right type of air delivery device (Air-Knife, Cone Manifold or Cap Dryer) and properly sized Centrifugal Blower to minimize the energy consumption while providing the excellent drying results you expect from experts in this industry.