Packaging Equipment Sales
Combination Scale Filler
Packaging Equipment Sales has Rotary Combination Scale Fillers in 10, 14, 16, 20 and 24 head configurations for filling bags, pouches, cans, bottles or boxes with dry products such as snack foods, candy, nuts, coffee, pet food, frozen foods, rice, beans, meat products and other non-powder products.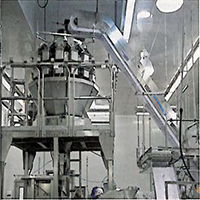 A Combination Scale Filler is designed for food applications or other dry products that require high-speed filling, increased net-weighing accuracy, easy cleaning and super reliability long term. All of these Combination Scale Fillers are made in North America and utilize high quality components, heavy-duty construction and the latest in machine control software. The 24 Head Combination Scale Filler can achieve filling speeds in excess of well over 200 packages per minute. Our Combination Scale Fillers are among the finest packaging machines on the market at a very reasonable price especially considering all of the included unique features.

Watch this great video of our Combination Scale Filler.
This video shows a recent "very successful" application we did utilizing a 10 Head Rotary Combination Scale Filler with 2.5 Liter Buckets filling Granola into Pre-Made Pouches at 30 bags per minute. A Combination Scale integrated with a Vertical Form, Fill, Seal Machine. We have many options available with these Rotary Combination Scales, remote electronics, CIP (Clean in Place) wash-down, stainless steel platforms, vibrating feed pans, dimpled or smooth buckets and many more.