Packaging Equipment Sales
End of Line Equipment
Shrink Wrappers, Stretch Wrappers, Tray Formers, Case Erectors and Case Packers
Packaging Equipment Sales has over 1,000 Shrink Wrappers, Shrink Bundlers, Case Packers, Tray Formers, Case Erectors and Stretch Wrappers to choose from, we can handle any automated packaging application.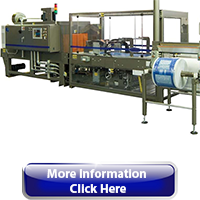 Shrink Wrap Machines for all levels of automation and for every application. We have semi-automatic L-bar sealers for start-up companies that do not require a high-volume output but instead need lower capital investment and a high quality finished product. Some other types of shrink wrap machines available are semi-automatic shrink bundlers for unsupported multi-packs (film only without tray or pad), automatic L-bar sealers, side seal shrink wrappers, bottom overlap shrink wrap machines (for water bottle cases), large format shrink wrap machines (for windows and doors). Any type of product that needs to be shrink wrapped prior to shipment, we have the right shrink wrapper for the application. Each Shrink Wrap Packaging Machine we sell comes with exceptional technical support, a large repair parts inventory located in the United States and the extensive automated wrapping knowledge to keep your packaging machinery operating at the highest efficiencies for many years.
Watch this video of End of Line Equipment applications:
The video shows the following: An Automatic Tray Former producing glued trays at 30 trays per minute, an Automatic Self-Locking Case Former producing cases for a well know snack food manufacturer and a Automatic Case Packer producing wine cases for one of the largest wineries in the world. These are examples of our most automated End of Line Equipment for packaging but we also have semi-automatic machines for companies looking for equipment with a lower capital investment or have slower production rates.
If you need more information about End of Line Equipment or pricing, contact us