Packaging Equipment Sales
Tray Forming Machines
The premier packaging equipment Automatic Tray Formers. From concept through production, these Tray Formers are designed to operate at high efficiency. The solid construction of this equipment is evident with every component. Most replacement parts are off the shelf items found at your local bearing house, which helps to reduce your maintenance costs. The high quality, heavy duty packaging equipment that is second to none, available on the market today.
These machines can often pay for themselves in reduced corrugated scrap when compared to the competitor's packaging equipment. The exceptional precision and reliability engineered into every packaging machine results in reduced maintenance costs, improved production efficiency and quality. The combination of superior performance and reliability are key factors why more companies are choosing these Tray Formers.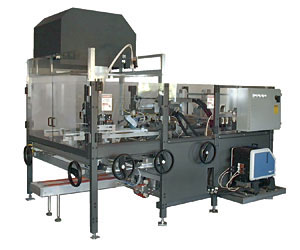 Tray Formers we offer come in several models which are capable of automatically producing numerous styles of trays at speeds up to 35 trays per minute. The machines can form slotted trays with flaps on the outside, regular trays with glued divider inserts, bag in box style trays, trays with top flaps, leak proof trays, trays with one piece lids, one and two piece telescoping trays, regular slotted trays, four corner glued trays, retail display trays, column case style trays, column case with top flaps, kiwi style trays, common footprint ledge style trays and common footprint defor style trays.

If you need more information or pricing on an Automatic Tray Former, please contact us