Packaging Equipment Sales
Bottle Orienter
Bottle Orienter for orientating all types of bottles, jars and jugs. We have two types of Bottle Orienters, Inline Bottle Orienters and Rotary Bottle Orienters to meet just about any packaging speed and bottle shape requirement.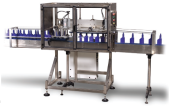 An Inline Bottle Orienter is available in two designs and selection is based on the shape on the bottle. If the bottle is rectangular shaped or has an oval base like many household products or F-Style Automotive Oil Bottles, then the bottle only needs to be oriented by 180 degrees. In this case an Inline Bottle Orienter with a very simple Pivot Design is all that is required. When the bottle has a square shape, a round base or complex design that may require orientation by 90, 180 or 270 degrees at speeds up to 300 bottles per minute the standard Inline Bottle Orienter is the best solution.
The Standard Inline Bottle Orienter uses a series of belts to orientate bottles in the correct direction of flow on the packaging conveyor to feed downstream machinery in the packaging process. Various types of sensor selections are available to detect the position of the incoming bottle and depending on the required orientation the bottle will be rotated in the correct direction.
The Pivot Type Inline Bottle Orienter has an overhead mounted motor which either lets the correctly oriented bottle pass through the clamp area or if the bottle needs to be re-oriented then the bottle clamp pivots the bottle 180 degrees to achieve the correct bottle orientation.
Watch this video of bottle orientation applications:
The video shows the following: Pivot Style Bottle Orienter for gallon juice bottles, In-Line Bottle Orienter for F-style motor oil bottles, High-Speed Bottle Orienter for complex bottle shapes including food products, household cleaners, empty bottle orientation and filled bottle orientation.
If you need information or pricing on a Bottle Orienter, contact