Packaging Equipment Sales
Rotary Chuck Bottle Capper
Rotary Chuck Bottle Cappers reduce cocked caps, loose lids and over-torque caps. These Automatic Bottle Cappers are used to automatically cap jelly jars, food jars, spice jars, jars of fruit, pasta sauce jars, pharmaceutical bottles, water bottles, juice bottles, sports drink bottles, oil containers, household products, any type of glass bottle, glass jar or plastic bottle with a screw on lid or cap.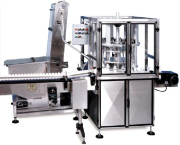 Rotary Chuck Bottle Capping Machines have a small footprint compared with other cappers capable of similar speeds and use a VFD or Servo for each capping chuck instead of a clutch system like many competitors bottle capping machines. The result is the elimination of the clutch wear parts and a repeatable and accurate cap torque.
These Bottle Cappers feature the ability to control individual capping stations torque electronically and adjustments can be made on the fly, thereby reducing downtime associated with conventional cappers using a clutch style chuck. Other benefits of the well thought out electronics are push button turret height changes for different bottle types. All bottle programs can be stored into memory for easy recall and changeover.
Watch this video of a Rotary Chuck Capper applying bottle caps to household products and pharmaceutical bottles:
How a Rotary Chuck Capper Works: The container enters the capper's lower turret which is rotating at the same speed and in the same direction as the upper turret which has the chucks and spindles attached to it. The chuck picks the cap and places it on the container. Once the cap is mated to the top of the container, the chuck begins spinning and threads the cap on the neck of the bottle or jar until it seals. The reason the machine is rotating is to gain dwell time for the cap application and torque process to occur. The larger the diameter of the turret and the more capping stations/chucks the higher the capping speed capabilities of the machine.
How a Rotary Chuck Capper compares to other types of capping machines:
Rotary Chuck Cappers operate in a similar manner as a human would cap a bottle or a jar. The cap is mated to the container and threaded on it until it is as tight as desired for sealing. An In-Line Capper relies on the front of the bottle or the jar to impact the cap at an angle while being conveyed through the machine to mate it to the surface. 2 opposing belts or wheels rotating in opposite directions spin the cap and torque it to the container. The cap application and threading process with an In-line Capper is dependent on mechanical angle adjustment of the cap chute to top of the container and the rotating speed of the opposing belts or wheels to correctly apply and torque the cap. An Inline Capper creates more cocked or missing caps and has less repeatable and precise torque application than a Chuck Style Capper.