Packaging Equipment Sales
Labeling Equipment
Packaging Equipment Sales is the only source you will need for every type of Labeling Equipment. Our extensive line of labelers include; Cold Glue Labelers, Hot Melt Labelers, Roll Fed Labelers, Rotary Pressure Sensitive Labelers and In-Line Pressure Sensitive Labeling Equipment. We have Labeling Equipment for Glass Bottles, PET Bottles, Jars, Cans, Clamshell Packages, Boxes, Cartons, Bags and other products. If you need to label any type of product we have Labeling Equipment for your application.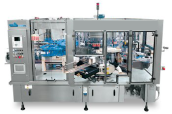 Cold Glue Labeling Equipment for Glass Bottles such as Beer Bottles, Wine Bottles, Fruit Juice Bottles, Tea Bottles, Food Products, Sauces, Jams or Jelly we have Rotary Cold Glue Labeling Equipment. These labelers apply "Cut-Stack" Paper or Plastic Labels on cylindrical, oval or rectangular bottles and jars. The labels are automatically fed by a magazine into the labeling station where a thin coat of cold glue is applied to each label. As the container rotates through the labeler the glued label is placed in the desired location on the bottle or jar and smoothed out with brushes or sponge rollers. A Cold Glue Rotary Labeler is most often used for applying a full wraparound body label or front and back body labels.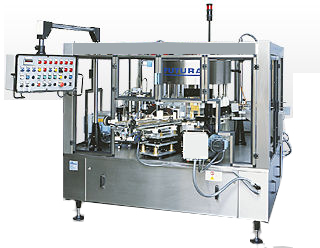 Hot Melt Glue Labeling Equipment is used for high-speed labeling applications such as Cans or PET Beverage/Water Bottles. The labels are usually a "Cut-Stack" Paper or Plastic Label. The labels are loaded in stacks into the Hot Melt Labeler magazine. As the Can or Bottles rotates in the labeler a strip of hot melt glue is applied to the "pick up" area on the container. When the Hot Melt glued container contacts the label, the label sticks to the glue and as the container rotates and the label wraps around the container. Just before the end of the label, a second strip of hot melt glue is applied to the trailing edge of the label and this second glued edge of the label overlaps the first glued section of label and forms a full wrap label. Hot Melt Glue Labelers have fast label drying time which is why they are perfect for high speed applications.