Packaging Equipment Sales
Semi-Automatic Bag Sealer
Semi-Automatic Bag Sealers for heat sealing all types of heat sealable pre-made bags and pouches, including those made of polyethylene, polypropylene, cellophane, mylar, foils, or paper laminates. We have a large selection of Vertical or Horizontal Semi-Automatic Bag and Pouch Sealers that have been engineered specifically for use in food production, pharmaceutical applications as well as general packaging of large or small items in 24/7 production environments.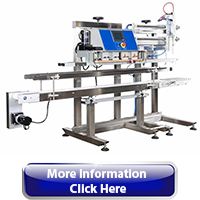 Semi-Automatic Vacuum/MAP Gas Flush Bag Sealers are now available which is great news for companies that need Modified Atmospheric Packaging or Vacuum Packaging of hard to automatically bag products like Jerky (because of large irregular shapes), do frequent changeovers of bag types and sizes such as Contract Packagers or companies lower production volume requirements for example Custom Roast Coffee Producers. The amount of vacuum applied or the MAP gas dispensed is controlled by the PLC with panel display to make creating the perfect package easy. This is the first machine on the market to allow for High-Quality Vacuum/Gas Flush Bags or Pouches to be produced with a low priced Semi-Automatic Bag Sealer.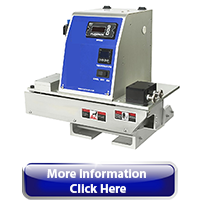 We have a wide range of Semi-Automatic Bag Sealers, from small table-top pouch sealers to conveyorized bag sealers for heavier products that need the bag supported because of it weight. Packaging Equipment Sales even has washdown design Semi-Automatic Bag Sealers for Food Applications when doing a vertical sealing of bags and pouches such as Frozen Seafood, Fruits, Vegetables, Nuts and other products that require frequent washdown of the packaging equipment. We have included Stainless Steel Construction of the Sealing Head, Electronic Enclosure and have optional custom Conveyors to meet your packaging equipment needs, we have Bag Sealers for all of these applications and more.
Watch this great video showing several applications of the Semi-Automatic Bag Sealer.
The video shows vertical bag sealing of Vegetables, Coffee, Frozen Shrimp/Seafood, in Pillow Style Bags, Stand-up Bags and Gusseted Pouches. Note- with 2 operators sealing of 30 bags per minute is easily achievable for significantly less capital investment than would be required to produce the same number of bags with an Automatic Bagger. For start-up companies producing products in a pouch or bag this is the first piece of Packaging Equipment they need purchase. For larger companies this is a great way to supplement production or produce short run products without having to changeover their Automatic Bagger.